'Ello mi furry fwrends.
I iz Mr Winston ant I iz a 5 yeer old, blak & whyt springee spagnol. I az deesided to maike mi own fred in ere az I fink yoo hoomans shud get to heer a mor aboot dhe wai uz spagnols fink.
I wil start wiv mi introdooksion. I az livd wiv mi mom sinse I wuz 9 munfs old. I av a big sissta corld Dinks who iz a bit bossee. I av no man bitz ant mi mom finks I iz a lickel bit effemenit but yoo can maik oup yoor own heeds wen yoo heer mi storees.
Dhis iz mee on mi hummok in dhe gardin
: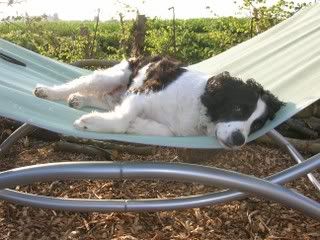 I wil start mi storee wiv yesturday.
We wented foor a wark over dhe feelds ant I wuz vwery gud az I duz not lik to get mi poors vwery muddy. Dinks wuz a bit meerderuss az she dedded a wabbit (wich woz a bit poorly) AND SHE GOT A JIANT WORM FING.
Mom woz not vwerry peesed as dhe wormee fing woz a poisunus snake. It wus qwite big ant Dinks bort it over but we fort it woz dedded too, frum dhe shock ov beein in Dinks mowf ant er shakin it abowt.
Wen we got bak home, Dinks started to coff ant chook ant eet gras lik a whorse. Mom corld Antee F whoo cam rownd wiv er box of stuf. Dinks ad to av sum steroods ant sum anteebyoticks ant a fermomeeter oup er bot tom. Nowon cud find a bited part on er ant I fort she ad joost swolod a burr fing.
She iz ok but gav evreeone a frit ant I woz a bit scard too!
Later, Da-da ataked us wiv dhe skissors ant Dinks az a Beckum Bob fing going on wiv er lugs. Dhe burr fings are quit big ant prikerlee ant maid Dinks ears stik in funee waies. I spent a foo ours chooing dhe mud frum mi poors, rollin it in mi mowf ant dhen spittin it on dhe flore (dhat Mom ad woshed dhat mornin).
Ar wee normul spagnols? I iz cureeus............peez let me no
Edited to corekt mi wubbish speeling