Finding a dog friendly walk in a place you're not familiar with can be difficult, especially if it should provide a scenic/tourist interest, yet still allow free runs and other springy activities. The Bodensee (Lake Constance) is a major tourist attraction right in the middle of Europe, bordering three countries (Germany, Austria and Switzerland). It is also fairly large (the 3rd largest fresh water lake in Europe) and beloved by bikers and those addicted to water sports.
http://en.wikipedia.org/wiki/Lake_Constance
So where to go if one party comes from the north, the other from the south? I asked Google maps and German and Swiss dog forums and came up with the small town of Bodman, situated on one of the two "horns" at the lower (western) end of the Bodensee. The bike path around the lake has been set back from the shoreline there because of a gorge accessible only via a lot of steps, leaving the path to the walkers. The advice was good, but the weather gods were unsmiling, so the scenic pics were a bit limited by pouring rain....
Anyway, here's a view of Schloss Bodman, a privately owned manor house at the start of the walk at the eastern end of the town (the sun came out when we came back frome the walk!):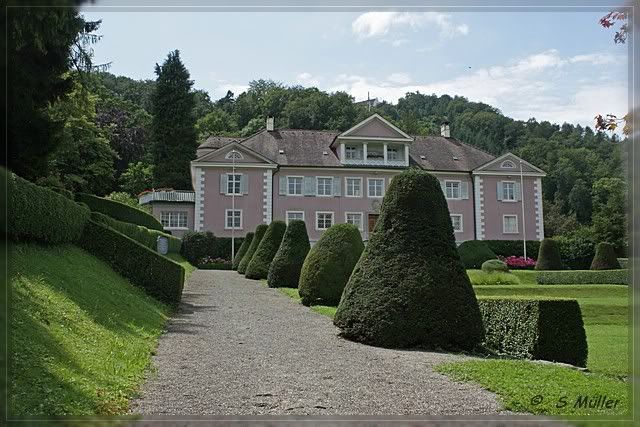 The walk is all along an unpaved road close to the shoreline, with access to the lake at various places.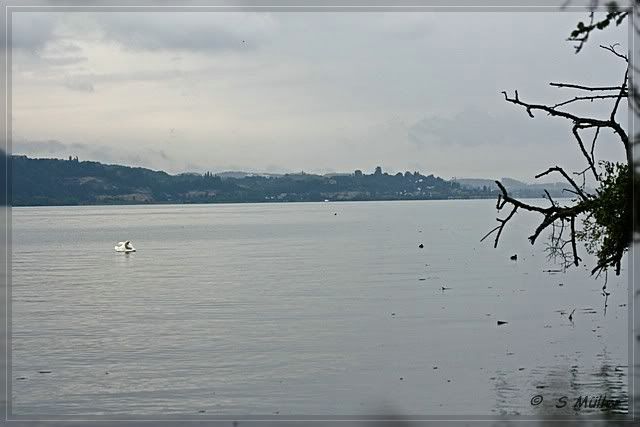 A well-soaked summer camp along the way: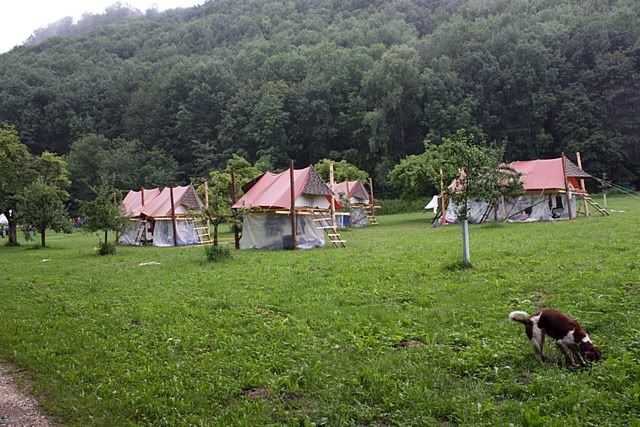 After about 6 km the path reaches the lower end of a narrow gorge, the Marienschlucht, that can be walked thanks to countless stairs. That's where we turned back, being thoroughly wet already. The point can be reached by boat also - Rhian is investigating the landing pier:
On the way back, the rain actually stopped for a view of Bodmann: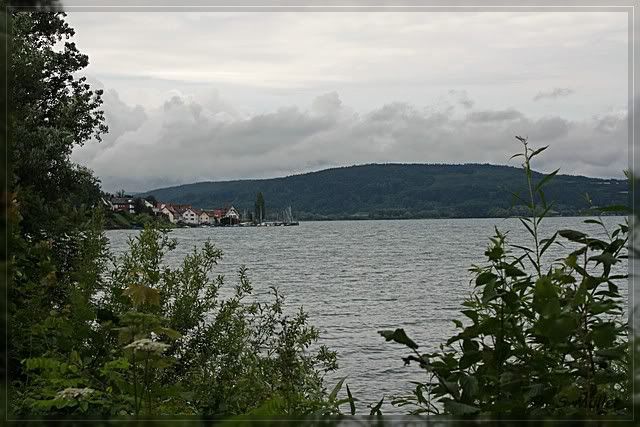 Doggy pics will be provided in the photo section....
Had the weather been kinder, there would have been lots of places to swim not only for the dogs, but for people also.