This poor little girl has been let down by humans in the worst way as the person who did it was someone who professed to be a dog lover and was a coodinator for a rescue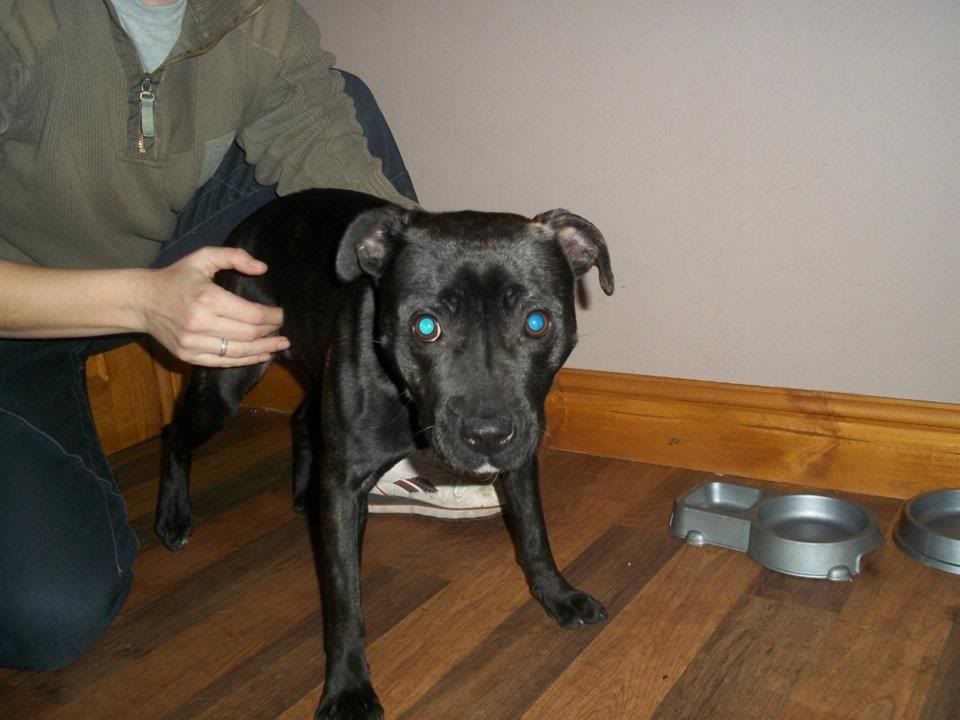 http://www.doglost.co.uk/dog_blog.php?dogId=35775
This was the initial info about her being missing
QUOTE
She was found next to a canal, soaking wet and in a very distressed state. In her fear and terror, she ran onto a road and was hit by a car.

She was taken to the vet for treatment and Doris Banham Dog Rescue stepped in to get her to safety so that she wouldn't end up at risk in the pound.

Our volunteer was transporting her to the rescue on 30th December and during the transport run, she decided to stop to give Lola a toilet break - and lost her.

Lola has been missing now for 7 days.

It is IMPERATIVE that we find this girl - she is lost, scared and alone. She's just a baby - only 10-12 months old.

Lola is the name she was given at the pound - so she wont recognise it.

She is a small black brindle staffy girl with a small white patch on her chest and will be easily recognised as she has a large bald patch on her back - this is due to a flea allergy and is NOT contagious so please don't let that put you off helping her.

The area she is lost in is a huge area of woodland and we desperately need help to search for her.

She went missing in Brodsworth Community Woodland, off the B6422, Green Lane, near the A638 Doncaster

Please help find this girl - she's been through enough. There is a cash reward for Lola's safe return.


but this is what really happened (I' can't stop crying for the little baby)


QUOTE
i am one coordinators of Doris Banham Dog Rescue I have been asked by the trustee to post up some information on Lola as so many people were kindley looking for her and are shocked by what has happened.
This is fact - this is not heresay. We have been working hard to get physical evidence before we released a statement.
Lola was NEVER in Doncaster. This is why she was never found.

Lola was in the vets when we picked up the story of what happened to her. It just so happened one of our volunteers were in with their own dog and heard what happened about the canal and the car accident. The vets told us she would be going to Halifax pound if noone came forward for her. Our volunteer knew this would mean certain death for Lola as this particular pound do not work with rescues so she got the Dog warden to allow Lola to be signed over to us to do her 28 stray days in our kennels in Coningsby.

We then appealed for a transport volunteer as unfortunatley none of our own drivers were free to take Lola from Halifax down to Coningsby.
This is were (name removed)comes into the story as a transport volunteer. We checked her out and as she is a coordinator for another known rescue so trusted her.

Lola was handed over to <removed>who was going to have Lola at her house over night ready for the run the next day on the 31st Dec. We got a lovely email from <removed> with some photos saying what a lovely dog Lola was.
The next day we got a text from the woman transporting her saying that she had lost Lola in Donacaster and she also put this on her own facebook page saying she had lost the dog in the park.

We couldnt understand why the dog was in Doncaster as it wasnt on the way- but <removed> switched her phone off and refused to speak to us about Lola again. You may have noticed she never joined in with the search for Lola.

This is because she knew Lola was no where near Doncaster.

We now know that the Doncaster story was a lie and this is what infact happened :-

<removed> never took Lola on the transport run and instead for reasons only known to her she phoned the dog warden on the 31st and allerted them to a stray brindle staffy with a skin condition and no collar (she had removed it) and could they collect her. Lola was signed over to Halifax pound that day from <removed> home. We have proof of this - she was signed over in the transporters own name & address.

Unbeknown to us and thinking she was in Doncaster we then started this page and have had many people out searching for Lola since.

The pound even got a call from the transporters partner Lisa stating they wanted the dog back. The pound agreed and waiting for them to come with the release fee of £80 to collect Lola.
The pound waited 11 days - longer then they normally do and noone came for her.

She was put to sleep yesterday.

Not once did either she or her partner tell us what they had done or even that Lola was in the pound in Halifax- we would have gone and got her immediately.

she washed her hands of this little staffy , has now removed her pages from Facebook and will not answer her phone.

As fas as we are concerned she killed Lola.

We can not for the life of us understand why on earth any of this happened. We are seaking legal advise.

None of what I have put is gossip - its is fact and we have proof from the Dog wardens & Pound. If we were ever going to be able to save any lives from this pound - that relationship has probably been destroyed for ever now.

RIP LOLA - we tried so hard to save you little girl and will never forget you.
The volunteers directley involved in this are heart broken.