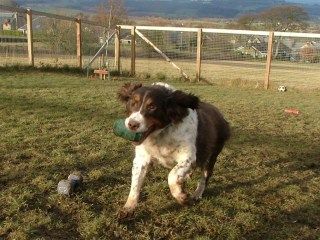 Name:
Jazz
Age:
Around 7 - 8 ish
Vaccinated:
Not Yet
Microchipped:
Yes
Neutered:
Not known (but highly likely)
Date to Rescue:
13/02/2012
Can he/she be homed with Children:
As Jazz is a stray we would suggest Children over 10 only.
Can he/she be homed with other Dogs:
Maybe
The very sweet Jazz was picked up last weekend as a stray, even though she is microchippe her owners didn't come to collect her so today she came into rescue.
It is quite difficult to determine her age as she is somewhat of a porker
. Looking at her teeth she could be around 6is but overall she looks older, mainly due to her weight. She is going to need a little bit of work as she needs to lose some weight asap, once she has lost a little bit she has a few lumps and bumps that will probably need removing (our vet will do this of course). She has obvioulsy been fed well and loved as she is a very snuggly loving girly but she hasn't been cared for properly. As well as being very overweight, she was full of matts and some of her nails have grow round and back into her pads.
Jazz is therefore looking for a very special home, one where someone will give her the love and attention she deserves but also be strict enough to get her back into shape. A few kilos off and she will look like a different girl and from past experience will also probably be a much more lively girl.
One other thing I'd perhaps better mention is that this little sweetheart has only one eye. We can only guess what has happened but for whatever reason she has had to have one of her eyes removed (probably due to and accident). It doesn't seem to bother her at all and she is still beautiful but some people may be put off by it so I thought I had better mention it.
You can find out more at
http://syessr.21.forumer.com/posting.php?m...editpost&p=4515