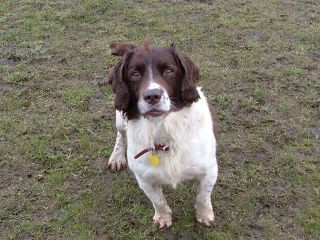 Name:
Smudge and Bear
D.O.B:
6 and 7 Years
Vaccinated:
Ongoing
Microchipped:
Unknown
Neutered:
Yes
Date to Rescue:
14/12/2011

Can they be homed with Children:
As we know so little about this pairs past we would suggest Children over 10 only.
Can he/she be homed with other Dogs:
Probably not, as they are such an established pair they may find settling in with another dog difficult.
Smudge and Bear came into rescue due to their owner being seriously ill and unable to care for them. Prior to coming to us they had been in boarding kennels for over a year.
Bear is the liver and white boy and Smudge a black and white girl. Due to their owners illness we were unable to speak to her and her relatives weren't able to give us much information other than they were good with children and most dogs (apparently if dogs are too full on with Bear he can be a little tetchy). However we took him on a walk with around 50 other dogs and he was fine with all of them.
The boarding kennels they had been in did tell us that Bear could be a little grumpy but we have seen no evidence of this. We don't think the staff at the boarding kennels could have spent much time with them as when they first arrived they didn't seem to want to interact with us much at all. Boarding kennels are designed for a few weeks holiday not for a 13 month stay :cry: .In just the few weeks the have been with us they have come on in leaps and bounds and really are a lovely pair. They are both very friendly and fussy, Smudge especially loves a cuddle and Bear would do anything for a ball.
Bear isn't looking his best at the moment, for the year they had been in boarding kennels it didn't appear that they had been groomed and their coats were in a bad way. When we had Bear castrated the vet decided to clip off all his mats while he was under anesthetic so he's had a pretty drastic cut - it will soon grow back out though
They are quite strong on the lead and this will need work and/or a gencon/halit/harness etc but they are both good off lead and we think they probably haven't been on leads very often, hence why they are so bad on them.
Find out more at
http://syessr.21.forumer.com/posting.php?m...editpost&p=3856