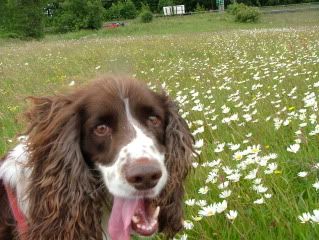 Name:
Charlie
Age:
8 Years
Vaccinated:
Yes
Microchipped:
No
Neutered:
Yes
Date to Rescue:
18/04/2011
Can he/she be homed with Children:
He has no previous experience of children so would be better in an adult only home.
Can he/she be homed with other Dogs:
Yes
Charlie came into rescue last year after his owner had to go into a care home. Prior to this his owners ill health has meant that he had not been out of his yard/garden since he was 2/3 years old and as he is now 8 it means he has totally missed out on walks, and socialisation with people/dogs for 4/5 years :shock:.
He has been in our care now for quite a while and in this time he has met lots of people and other dogs and been on regular walks in the big wide world and has shown himself to be a real character.
Just before Christmas he went off for a few weeks to stay with a dog trainer so that he could get the chance to meet some well adjusted dogs to see how he would get on with them. He did surprisingly well given that he had very little experience of other dogs and got along fine with 20+ dogs.
Charlie will need an experienced home as he can sometimes be a bit stubborn if you ask him to do something he doesn't fancy and can growl but if he knows that he isn't going to get his own way then he soon stops.
Charlie gets on well with other dogs off lead but does get a little excited when he is on lead. He has a reasonable recall and doesn't run off, however if he's in the mood for more exercise doesn't come back quite far enough to catch him :wink: unless you have something tasty to tempt him. This of course would improve even more once he realised that he was going to get regular off lead walks.
You can find out more at
http://syessr.21.forumer.com/posting.php?m...editpost&p=2098